Biomedical Engineering Group
  Department of Chemical Engineering
  Faculty of Technology and Metallurgy
  University of Belgrade
The Biomedical Engineering Group at the Chemical Engineering Department, Faculty of Technology and Metallurgy, University of Belgrade, conducts research in the fields of biomedical and biochemical engineering for variety of applications in biotechnology, pharmacy and biomedicine. In the year 2004 the Biomedical Engineering Laboratory was renovated according to GLP standards by the Ministry of Science as a potential center of excellence for biomedical research in the country.
Our vision is to become an internationally recognized scientific-research group in the field of biomedical engineering, specifically in development of new products, and technologies for establishing bioactive environments for skeletal tissue engineering and tumor engineering, as well as in development of novel biomaterials for medical, veterinary and pharmaceutical applications. In addition, our aim is to transfer innovative ideas and scientific results into novel, actual products ready for the market in collaboration with industrial partners.
development of novel biomimetic bioreactor systems that imitate physiological conditions to stimulate in vitro tissue regeneration;
development of bioactive environments based on biomaterials and biomimetic bioreactors for tumor engineering and anticancer drug screening;
development of multifunctional biomaterials based on polymer hydrogels (g. alginate, poly(vinyl alcohol), gellan gum) and different active substances (e.g. silver nanoparticles, honey, activated charcoal with adsorbed therapeutic agents) for biomedical applications such as wound dressings and soft tissue implants;
biomaterial evaluation and 3D cell and tissue studies utilizing biomimetic bioreactors as relevant model systems to predict outcomes upon in vivo application as well as to decrease the extent of required animal tests
Novel wound dressings based on alginate hydrogels
Technologies for production of efficient, innovative formulations based on polymer hydrogels and active substances for treatments of superficial as well as deep, necrotic and infected wounds suitable for applications in human and veterinary medicine.
Novel formulations with controlled compositions
Prolonged, controlled and effective release of active substances
Variety of product forms suitable for different wound types, shapes, and degrees
Scalable production technologies
Production technologies adaptable to different polymers and additional active agents

Development, characterization and utilization of biomimetic bioreactors are one of the main expertise areas of our group. The research focus is on bioreactor systems aimed for engineering of skeletal tissues including cartilage, osteochondral equivalents, bone and intervertebral discs as well as for in vitro evaluation of novel biomaterials under biomimetic conditions. Perfusion cartridges, packed bed bioreactors and a novel bioreactor with dynamic compression and tissue perfusion are used to simulate physiological environments in bone/cartilage/osteochondral tissue. Also, biomimetic bioreactors are used in conjunction with biomaterials for establishment of 3D tumor models that would be used for anticancer drug screening.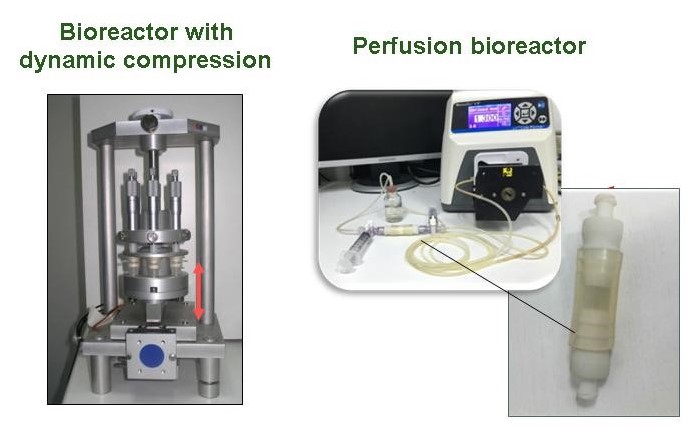 Biomimetic bioreactor systems (perfusion, with dynamic compression, with hydrostatic pressures) for biomaterial evaluation under controlled in vivo-like conditions (g. cytotoxicity studies on animal cells, biodegradation, release kinetics of active substances)
Immobilization of active substances and cells in hydrogels and development of controlled release systems
Mathematical modeling
Consulting on 3D cell and tissue cultures
Design, development and scale-up of novel bioreactors
Intellectual property consulting and services
Our lab and participation at scientific and innovation events
TV story about biomimetic bioreactors (in Serbian)
Participation in the Researchers' Night 2020
Prof. Bojana Obradovic talks about science, professional experiences and the ExcellMater and PREMUROSA projects in the TV series "Science is in fashion" (Nauka je u modi), RTS
New references related to the project
Scientific papers
Dragoj M., Stojkovska J., Stanković T., Dinić J., Podolski-Renić A., Obradović B., Pešić M., Development and validation of a long-term 3D glioblastoma cell culture in alginate microfibers as a novel bio-mimicking model system for preclinical drug testing, Brain Sci. 2021, 11, 1025. DOI: 10.3390/brainsci11081025 =
Conference papers
Radonjić M., Petrović J., Milivojević M., Stevanović M., Stojkovska J., Obradovic B., Chemical engineering models as valuable tools for optimization of experimental conditions in 3D cancer cell cultures, 22nd Annual Conference YUCOMAT 2021, August 30-September 3, 2021., Herceg Novi, Montenegro, virtual offline poster presentation =
Petrović J., Radonjić M., Stojkovska J., Obradović B., Optimization of in vitro conditions for 3D culture of rat glioma cells, 22nd Annual Conference YUCOMAT 2021, August 30-September 3, 2021., Herceg Novi, Montenegro, Program and Book of Abstracts, p. 80. =
Petrović J., Radonjić M., Stojkovska J., Stanković T., Dragoj M., Pešić M., Obradovic B., Design of a biomimetic system for 3D cancer cell cultures and anticancer drug testing, 31st Conference of the European Society for Biomaterials ESB 2021 together with the 43rd Annual Congress of the Iberian Society of Biomechanics and Biomaterials (SIBB), September 5-9, 2021, Porto, Portugal |fully virtual|, ESB2021 Book of Abstracts, p. 1438 =
Stojkovska J., Banicevic I., Radonjic M., Zvicer J., Veljovic Dj, Milivojevic M., Stevanovic M., Obradovic B., Development of a biomimetic bioactive microenvironment for osteosarcoma research, 31st Conference of the European Society for Biomaterials ESB 2021 together with the 43rd Annual Congress of the Iberian Society of Biomechanics and Biomaterials (SIBB), September 5-9, 2021, Porto, Portugal |fully virtual|, ESB2021 Book of Abstracts, p. 1440
Stojkovska J., Zvicer J., Andrejevic M., Janackovic Dj., Obradovic B., Veljovic Dj., Evaluation of biomimetic composite scaffolds based on alginate containing bioactive hydroxyapatite precursors under conditions relevant for bone tissue engineering, 6th TERMIS World Congress, November 15-19, 2021, Maastricht, Netherlands |fully virtual|, Book of Abstracts, Abstract 665 =
Stojkovska J., Stankovic T., Dragoj M., Petrovic J., Radonjic M., Pesic M., Obradovic B., Development of a 3D microenvironment for engineering of glioblastoma brain tumor, 6th TERMIS World Congress, November 15-19, 2021, Maastricht, Netherlands |fully virtual|, Book of Abstracts, Abstract 930 =
Radonjic M., Petrovic J., Milivojevic M., Stevanovic M., Stojkovska J., Obradovic B., Optimization of 3D cancer cell culture conditions by application of chemical engineering principles, 6th TERMIS World Congress, November 15-19, 2021, Maastricht, Netherlands |fully virtual|, Book of Abstracts, Abstract 1408 =
Obradovic B., Stojkovska J., Zvicer J., Banicevic I., Medic A., Novak S., Veljovic Dj., Miskovic Stankovic V., Physiologically relevant assessment of biomaterials in biomimetic bioreactors aimed for regeneration of skeletal tissues, 6th TERMIS World Congress, November 15-19, 2021, Maastricht, Netherlands |fully virtual|, Book of Abstracts, Abstract 1530 =
Banićević I., Radonjić M., Pavlović M., Milivojević M., Stevanović M., Stojkovska J., Obradović B., Development of a physiologically relevant 3D in vitro model for osteosarcoma cell cultivation comprising alginate composite scaffolds and a perfusion bioreactor system, 19th Young Researchers Conference – Materials Science and Engineering, December 1–3, 2021, Belgrade, Serbia, Programme and the Book of Abstracts, 2-1, p. 6.
Petrović J., Radonjić M., Stojkovska J., Obradović B., Optimization of bioreactor cultures of glioblastoma cells immobilized in alginate microfibers, 19th Young Researchers Conference – Materials Science and Engineering, December 1–3, 2021, Belgrade, Serbia, Programme and the Book of Abstracts, 2-3, p. 8.
Obradovic , Stojkovska J., Veljovic Dj., Milivojevic M., Stevanovic M., Dragoj M., Stankovic T., Pesic M., Microscopy in the development of novel materials for biomedicine and biotechnology, Microscopy Conference 2021 & Multinational Conference on Microscopy, August 22-26, 2021., Vienna, Austria, fully virtual, Proceedings, p. 408